Road trip around France.
The car is a Citroën C4 Picasso: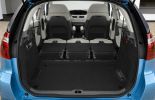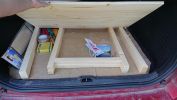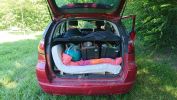 It is planned to take all these during the trip:
1 matelas 140x190x8
1 couettes une personne + 1 duvet + 1 traversin
1 bouteille de gaz Primagaz Twiny 6kg

1 détendeur Clip-On bleu lagon (Un détendeur est fourni avec la première Twiny achetée. Source)

1 carton dans lequel placer le réchaud pour couper le vent
1 poêle + 1 casserole + 1 couvercle
1 planche à découper
1 cuillère en bois
2 torchons
2 tupperwares
2 sets de couverts (assiette + fourchette + couteau + cuillère)
2 tasses
1 éponge
1 paic citron
2 bac de manutention l.45 x P.35 x H.26.6 cm
2 dalles d'agencement 100 x 60 x 1.8 cm
2 tréteaux
1 poutre
1 speaker bluetooth
1 chargeur USB / emetteur FM alimenté allume cigare
2 batterie portable 10000mAh
1 routeur 4G
1 savon de Marseille
One application has been used to find places to sleep : https://park4night.com/
An improvement that could be useful is to design a parcel shelf (plage-arrière) in wood in order to put the gaz cooker on it and be able to cook at the back of the car during rainy days. We thankfully didn't get any rainy days except the very first one of the trip.
It could be nice to take two folding chairs to sit anywhere you stop. But I don't know where to store it while sleeping...